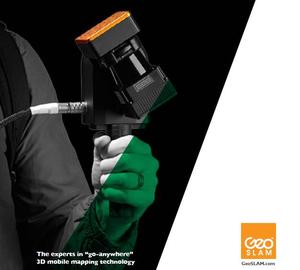 "Go-anywhere" 3D mobile mapping technology.
Handheld, lightweight and easy to use scanners that allow you to rapidly build highly accurate 3D models within minutes, while on the move. The complete solution that allows you to start mapping the world around you today.
The demand for up to date, accurate 3D models is greater than ever before. Traditionally, creating these models was solely the domain of professional surveyors, but now engineers and geospatial professionals such as facilities managers and architects are all seeking ways to quickly and accurately create 3D models. These professionals all need access to user-friendly technology that is easy to install and use, but is robust and reliable enough to do the job quickly and accurately. For those working in difficult to access spaces where there is no GNSS coverage such as inside buildings, and in caves, mines and forests, the demands on the technology are even greater. And for many, mapping the space is time critical. They need versatile tools that enable them to survey an indoor, underground or difficult to access space and within minutes build a highly accurate 3D model.
Introducing unique, end-to-end-technology - the ZEB-REVO solution:
Lightweight, handheld laser scanners which are highly mobile, simple to operate and can be used by anyone. Our versatile technology is adaptable to any environment, especially complex and enclosed spaces, without the need for GNSS. The 100Hz surveying system includes scanner, data logger and accessories and enables you to accurately scan and capture data,while on the move.
User-friendly desktop software which turns data into real-time 3D information, delivering rapid and accurate results within minutes. With unlimited point cloud processing software and local registration, you can check your survey data instantly on site and export files in a range of industry standard formats.